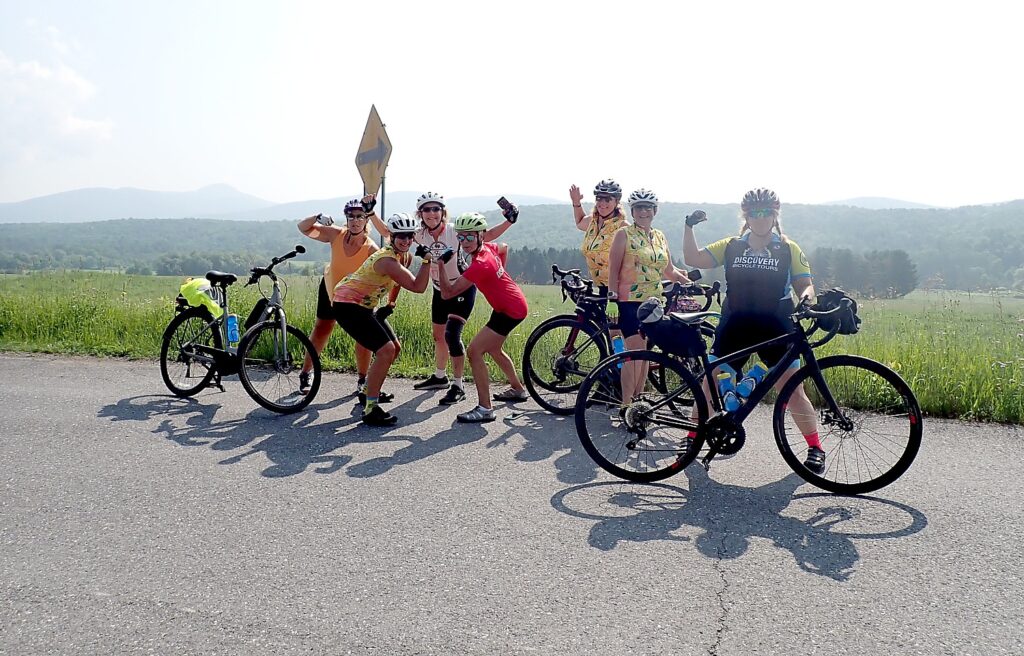 By Karen Rubin, Travel Features Syndicate, goingplacesfarandnear.com
It doesn't take long before we bike across the border into Quebec, Canada, just about 16 miles from Montgomery Center in northern Vermont. The countryside landscape, even the architecture, isn't all that different, but we immediately see signs in French that remind motorists that 90 km is 60 mph. It is literally crossing a threshold. This Discovery Bicycle Tours cycling trip through Quebec's Eastern Townships is marvelous in how you feel instantaneously transported far away – in fact, to a foreign country and forget how near we actually are, mere biking distance from our home country.
Discovery Bicycle Tours makes it all so easy. In fact, as our guides tell us when we meet for our orientation, "This is your vacation…"
I have arrived at Phineas Swann Inn, Montgomery Center, Vt around 4:30 pm the day before we set out for Quebec with plenty of time to get settled in my spacious room (more of a suite, with fire place, refrigerator, snacks and sodas, and coffee maker) before our 5:30 pm orientation with our leaders and the other riders.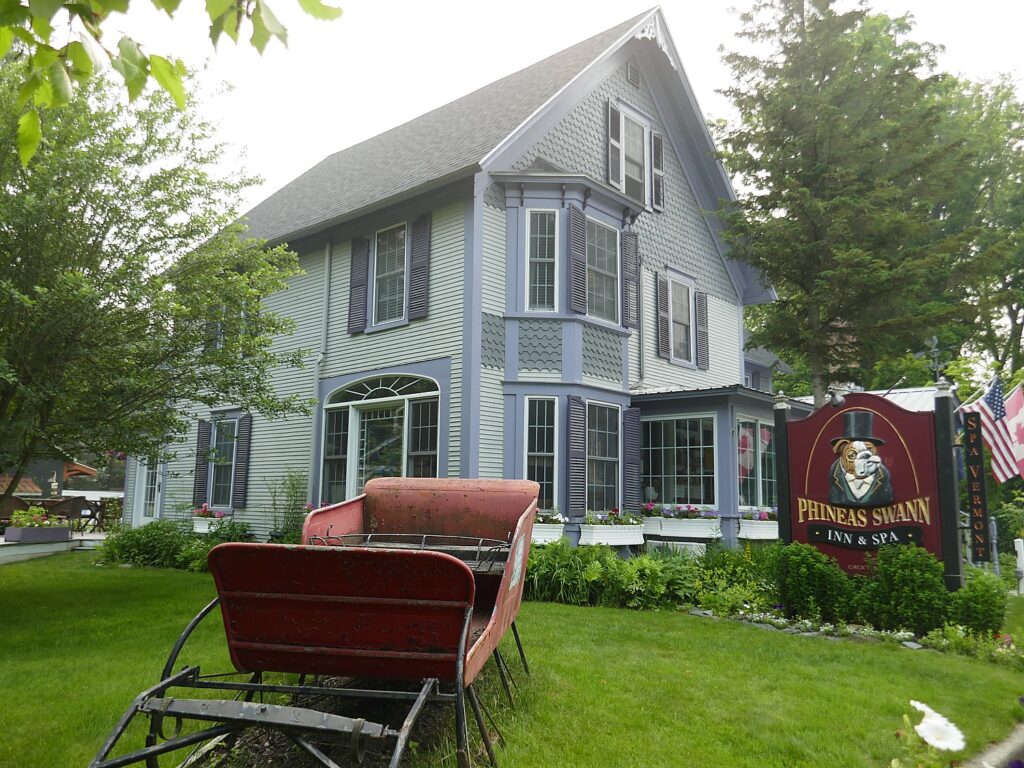 What a hoot! I recognize Jim Ortuno as the leader of my first Discovery Bicycle trip, in Woodstock Vt. several years ago. (I have since also taken Discovery's Coastal Maine bike trip.) Our second leader is Lindsay Smith. Both prove to be exceptionally caring, earnest, and efficient (Jim is a volunteer firefighter and Lindsay is an EMT). After we cross the border, we are joined by our Quebecois leader, Jacques Hebert, who provides such personal insights of the route, the places, the culture and history of where we travel that would not be obvious as we cycle by.
We go around the inn's salon to introduce ourselves. I find it enormously interesting that all nine of us are women and not exactly spring chickens (but each with zeal  and zest). Our complement includes a group of five ladies from New Hampshire who have been biking together since COVID and make me think of a cycling version of "Jane Austin Book Club"; two sisters from Massachusetts; and two of us who are traveling solo, from New Jersey and Long Island (bike trips are marvelous for solo travelers, and Discovery does a great job of accommodating singles).
What I love best about Discovery Bicycle Tours is the underlying philosophy: "Ride your own ride," in order to make the experience, regardless of biking ability, as pleasurable as possible. That is not the case with some bike tour operators that have the group ride together at some communal pace (you have to ask permission to stop for a photo) and is really the difference for me, maximizing the enjoyment and the experience.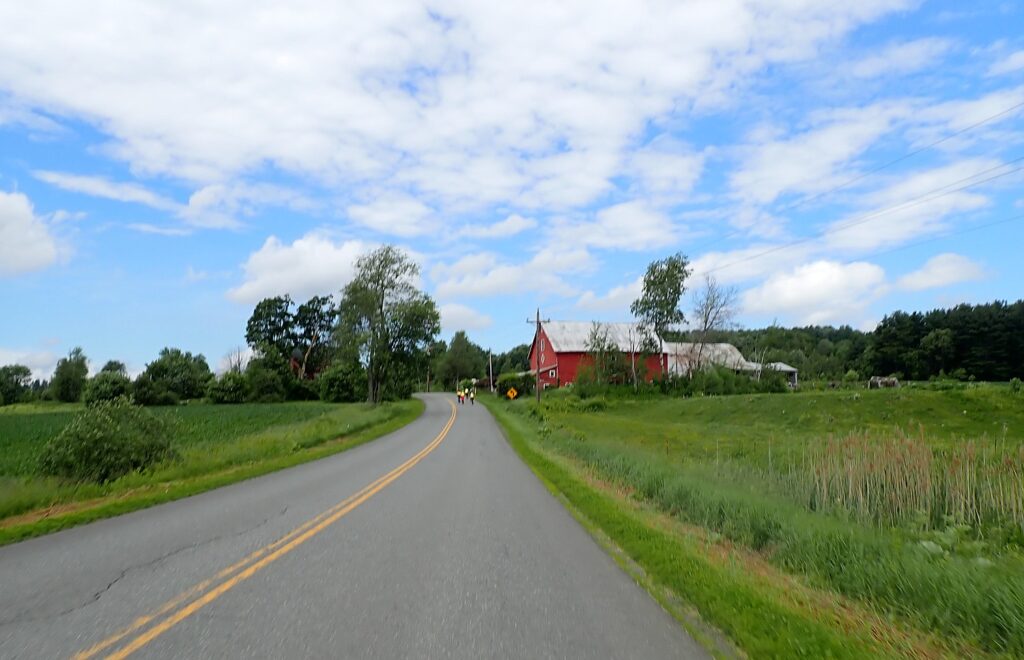 The secret ingredient is Discovery's use of Ride With GPS app. We all have our own route on our phone (customized by Discovery's owner, Scott Cone) – they also give you a printed cue sheet if you ask, which I do. That means you can ride at your own pace, you're not pressured to keep up or even keep riding (I like to stop for photos and to see things). You know how far you've come and how far you have to go.
Scott has organized the GPS so it alerts us to an attraction or when to show special caution such as a railroad crossing or an upcoming turn, and most importantly, when you've gone off-route. The GPS (and the cue sheet) alert you to what's coming up "there will be 1.3 miles of gravel road ahead – note round barn up on the left." "There is a nice view of Riviere Yamaska off to the right." "1976 Olympic Equestrian Venue on Left". "A very nice bakery on the left. Cash or debit cards only." "Stop at the granite marker for the 45th parallel. You are half way between the Equator and the North Pole."
(If you are concerned about the phone battery dying, you can either bring a battery pack, charge it at lunch, or keep it in airplane mode to conserve battery, which does not interfere with the GPS).
Another quality of Discovery's trip planning is that each day there is the primary ride and an option to do extra miles, which is a great way of accommodating riders of a range of abilities and interests. (One of the guides also drives the van each day that is available in case of a problem, but also sets up our rest stop/snacks/water each morning and afternoon.)
This Quebec Eastern Townships ride is classed as "2" or "intermediate" – so the rides are around 25-35 miles a day with options to do more (the toughest climbs are usually optional), and have for some long climbs along the road, as well as rolling hills, so that you can use the momentum from coming down to get you much of the way back up. Most of the ride are along the paved and gravel roads (but the Canadians are very polite and accommodating). Half of the group ride e-bikes (either their own or Discovery's which they make available at no extra charge); a couple have carbon road bikes; and one lady switched from her road bike to Discovery's e-bike. I am about the only one riding a regular hybrid bike, and at the end of a ride where there was one of the hardest climbs, everyone cheers as I come in.
"Our job is to make sure you have a good time. It's important to us that you have a great week," Lindsay tells us.  And that isn't just words. She asks what snacks we like and want (she is going to the grocery first thing in the morning to shop) – and the final list might suggest the cravings of pregnancy – olives, peppercorn chocolate which she purchases at the Chocolate Museum, chips, beer, plus fresh cherries, strawberries, bananas and other good stuff.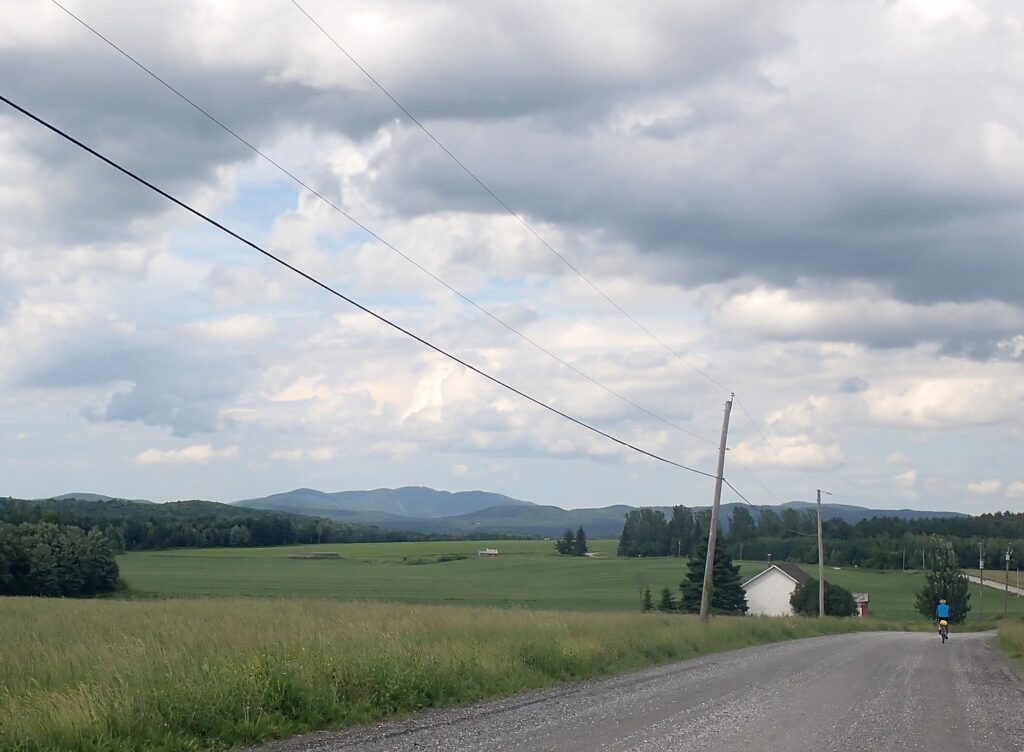 Jim and Lindsay, who are really good humored, really caring and really kind, fuss over us like mother hens (Lindsay more than once, seeing that my seat was too low, stopped to adjust it). Jim makes it his mission to offer great pro-tips on tackling the hills: keep chin up, relax the shoulders, light hands on the handlebar, push/pull pedals, breathe in once, out twice to empty the lungs; sing (which distracts). My method also includes not looking up at the hill, but looking 10 feet ahead, to keep mental focus, because once a doubt crosses your mind, that's when you stop.  I absorb and practice his methods as much as I can, but in the end, decide I am going to get up the hill any way I can even if it doesn't look pretty. It's mostly the "can-do" attitude that gets me to the top. Other tips: shift before you need to, drink before you're thirsty – take 2-3 oz sips every 10 minutes so you stay hydrated but don't need to pee.
It's like going on safari or hiking to Machu Picchu with people who are there to make the adventure as comfortable as possible. (Discovery also offers some actual adventure cycling trips for the more hard-core.)
Discovery Bicycle Tours does an outstanding job of preparing you for the ride – giving you all the information you need for contact (phone, email, addresses); fitting the bikes and helmets, safety talk; map talk preparing you for the trip and for the day's ride. Everything is conveniently accessible on the Ride with GPS app, including the elevations for the route. (They also arrange for shuttle for anyone flying into Burlington airport.)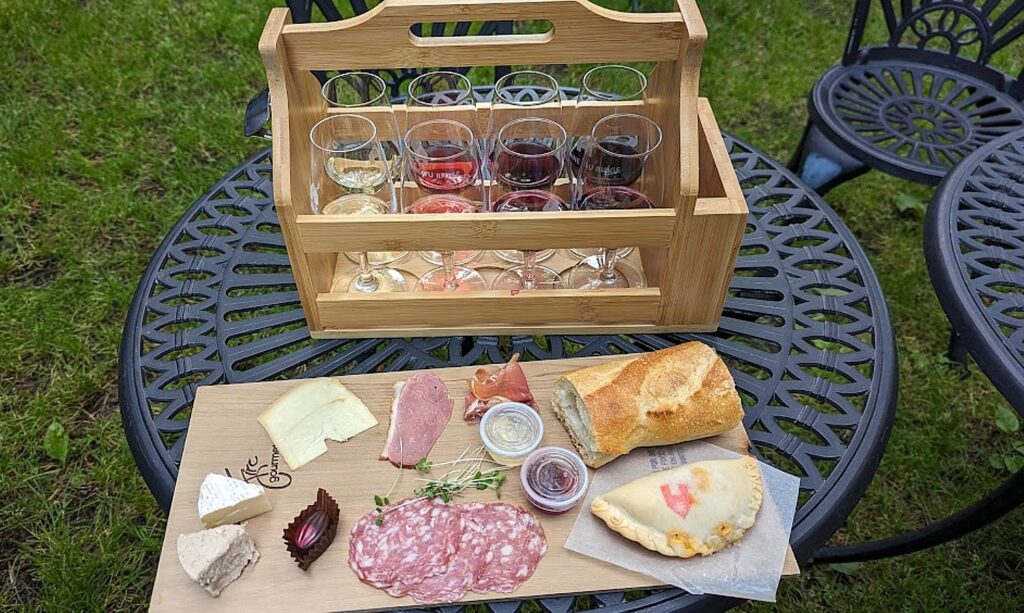 The meals (all breakfast, all but one dinner) are fantastic – excellent selection (we mostly order off the menu), marvelously prepared, with excellent choices, as well as accommodating diet preferences.
And the lodgings they choose are not merely places to overnight, but are special.
Our stay at the Phineas Swann Inn, in Montgomery Center, really sets the stage for the quality we experience all along the way. The inn is a restored 1880s farmhouse which TripAdvisor and Boston Magazine have named one of the most romantic inns in America. It is really plush, luxurious, quaint and has a spa for those who would like to indulge.
After our orientation meeting, we have a wonderful dinner at the inn and then a delicious breakfast, last bike fitting for anyone who needs it, and map talk before we start riding and a last reminder: HAVE YOUR PASSPORT ON YOU!
Cycling "Route des Vins"
The primary ride this first morning is 35.3 miles, with an option for11.7 more, for 47 miles. I take note of the map showing elevations – six climbs, one descent, 1,664 ft. for the main; and 483 ft for the next 11 with a rather long climb.
Though we generally are able to ride at our own pace, on this first morning, because of crossing the US-Canada border, Lindsay, who will be biking with us while Jim drives the van, tells us we need to pretty much stick together (which means not stopping for photos which is painful because the scenery, with farm houses and covered bridges, one-room schoolhouse, is really beautiful). They have to get the van through first because Jim has to present paperwork and go through inspection. But after that, we are back to riding our own ride.
It is rather exciting to go through the border, even though it is pretty pro-forma.
Our first rest stop and snack is at a visitor center located in what used to be the Grammar School.  There is a bust of Adelard Godbout, who was an important Prime Minister of Quebec (1936, 1939-1944), who Jacques tells us was a real progressive, winning the right to vote for women (1940), creating a conservatory of music and drama arts (1942); free, universal public education (1943) and hydro power as well as instituting progressive (sustainable) agricultural programs (he was an agronomist by profession).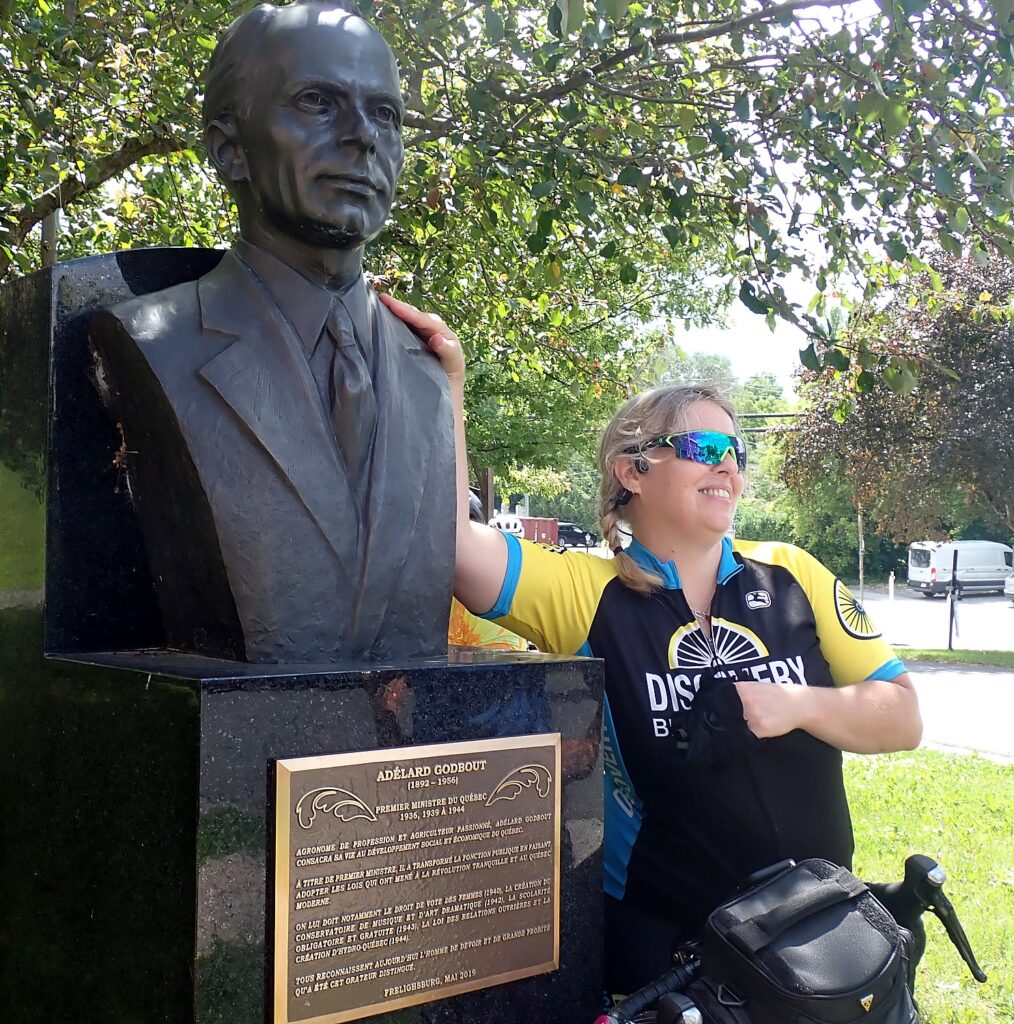 "He transformed the public function and adopted laws that amounted to a peaceful revolution transforming modern Quebec" (is my loose translation – so fun to remember my public school French). I find it interesting that the bust was placed there as recently as 2019.
We ride passed a cottage which is a "Poterie" (a potter's studio), but alas, the potter is not in.
Much of our ride is along the wonderfully scenic Quebec's "Route des Vins" (a winery/vineyards trail), and this day, we cycle to a winery, Domaine du Ridge,  at mile 27.6 for a beautiful lunch (it's really a surprise), where we have a delightful tasting of four wines accompanied by a plate of cheese, meats, pate, served at small tables outside on the lawn.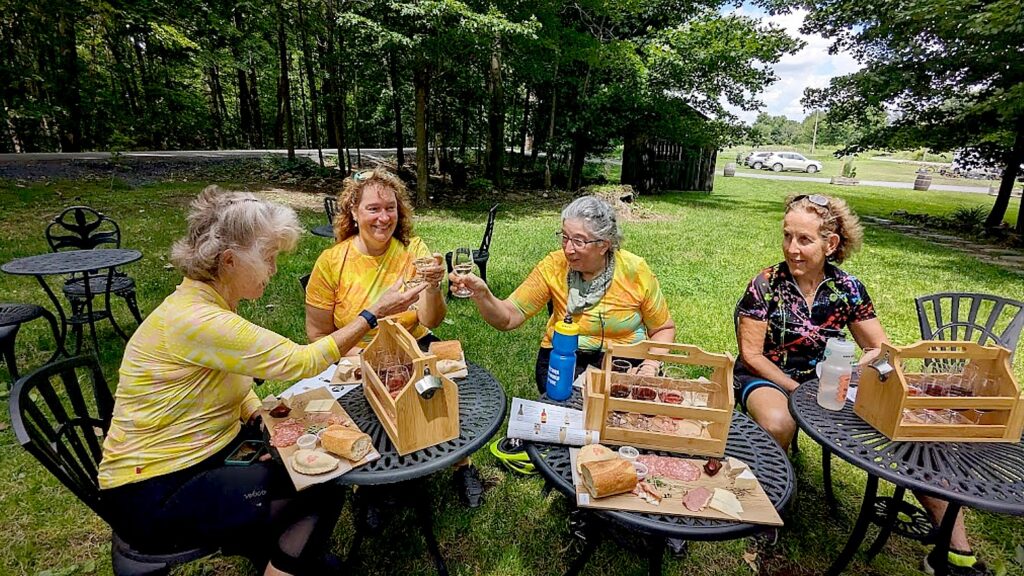 Vineyards, Jacques tells us, began to take hold in 1979; then, in the 1990s, micro-breweries came in, and today, the new trend (prompted by Internet wealth) are gin and whiskey distilleries.
We pass the Musee Missiquoi, which inhabits a water mill, which we would normally visit (it is closed on Monday).
There are several opportunities to stop and sample the wines and ciders at some of Quebec's most famous vineyards, including Opailleur and Domaine des Côtes D'Ardoise and Union Libre Cidre & Vin.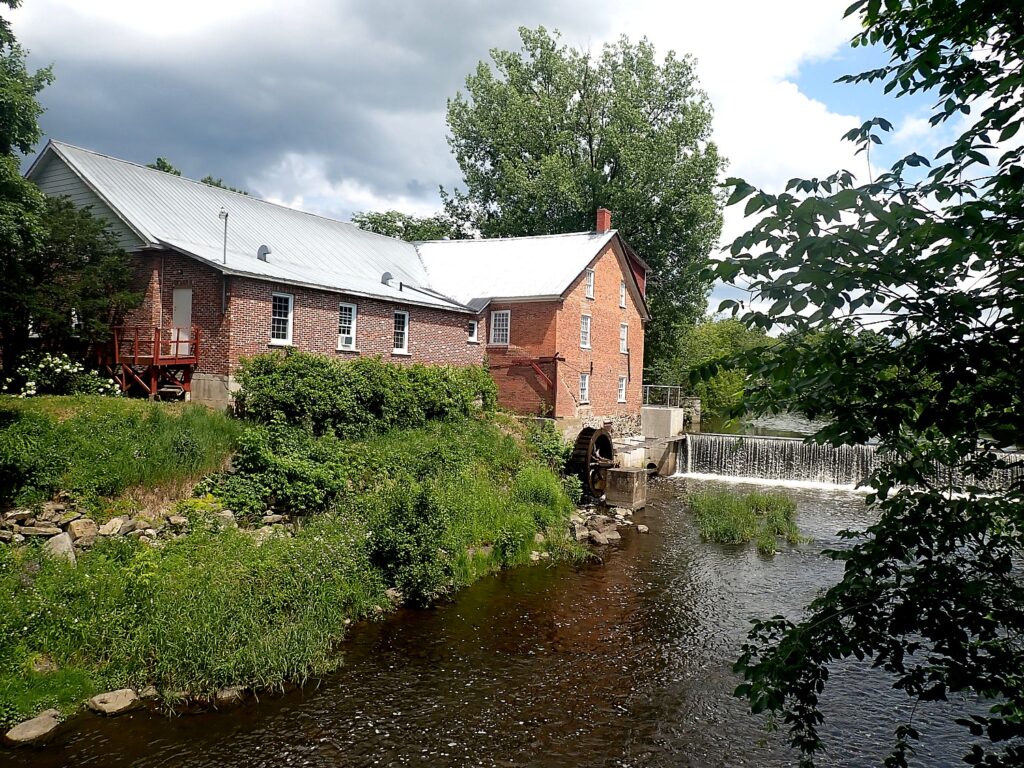 We end the regular ride at another winery which also has a sculpture park (they have arranged admission), and we are given the choice of riding the van back from here or ride 12 miles on gravel road to the hotel.
I continue on for the option, which is mostly on gravel country road with some hills (worth it for the views, they keep reminding us). Jacques has promised gorgeous scenery and it is true – the countryside scenes are painterly.
Scenery is important to me – the opportunity to see landscapes, villages, people going about their day at the pace of a bicycle, with the ability to stop and take it in, take a photo – is why I love bike trips so much. The physical feeling you get – the satisfaction of attacking a hill (and being successful) – is great, too, but not my priority, though tackling distance and hills is the priority for some of the road riders.
I'm loving this trip because we are immersed in a foreign culture – the fact it is French speaking – is such a wonderful overlay – and yet so accessible.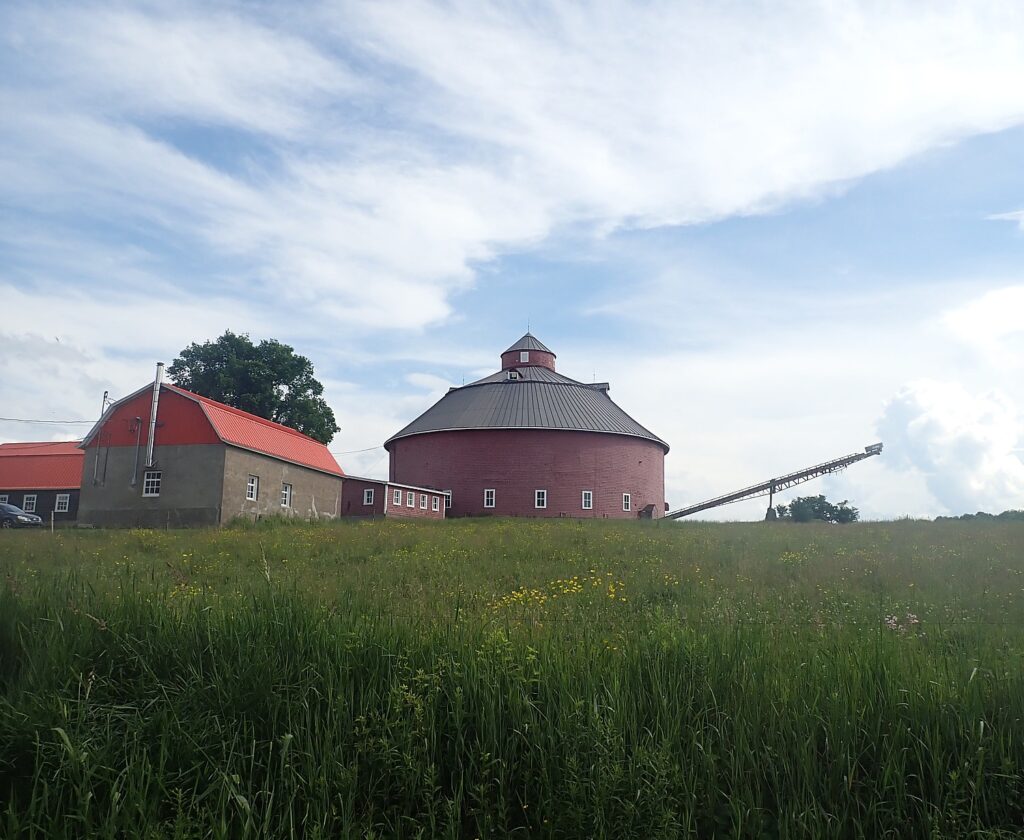 We pass a Quebec highlight, a round barn (Jacques what covered bridges are to Vermonters, round bars are to Quebecois). Off to the distance we can see our destination for the night, the charming Auberge & Spa West Brome, where we have access to their sauna, gym and gorgeous indoor heated pool. Just as we arrive, it begins to rain, and it is so very enjoyable to paddle around in the indoor pool and totally decompress. We chat with some of the other guests who have come from Montreal, summoning my French while they practice their English.
We have a sensational dinner at the Auberge's Bistro – Chef Ugo's inspiration menu. I get to taste Jacque's Boudin noir maison (homemade black pudding, bacon-whisky marmalade, apples with Calvados – it's actually quite tasty), but enjoy my appetizer, citrus salmon; for the main I have the duck leg confit with creamy roasted garlic puree. The dessert, chocolat mousse is fabulous.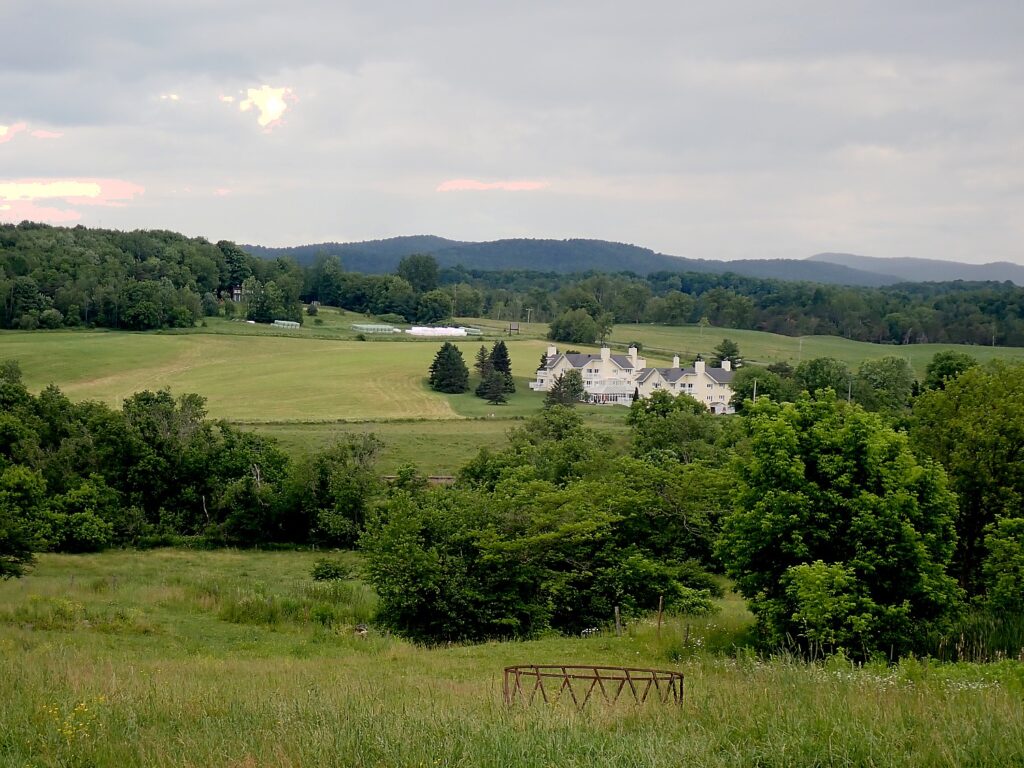 This inn (actually modern, but very charming, with a series of small buildings) really caters to cyclists. It is set amid 200 acres of picturesque farmlands, just north of the town of West Brome, surrounded by the lovely rolling hills that characterize the Eastern Townships of Quebec.
It takes no time at all for us to bond as a group, even though we are a blend of four entities, including two of us who are "solo travelers". That is the reason that bike tours are such an excellent choice for single travelers (I've had this experience so many times). This is especially true of the group of five ladies from New Hampshire, who instead of being cliquey (each day, they wear the same cycling colors) are so welcoming, mixing up seatings.
Discovery Bicycle Tours, 2520 W. Woodstock Rd., Woodstock, VT 05091, 800-257-2226, [email protected], https://discoverybicycletours.com/
Next: Discovery Bicycle Tours' Quebec Eastern Townships: Scenic Routes & Chocolate
See also: DISCOVERY BICYCLE'S 6-DAY COAST OF MAINE TOUR DELIGHTS THE SENSES
____________________________
© 2023 Travel Features Syndicate, a division of Workstyles, Inc. All rights reserved. Visit goingplacesfarandnear.com, www.huffingtonpost.com/author/karen-rubin, and travelwritersmagazine.com/TravelFeaturesSyndicate/. Blogging at goingplacesnearandfar.wordpress.com and moralcompasstravel.info. Visit instagram.com/going_places_far_and_near and instagram.com/bigbackpacktraveler/ Send comments or questions to [email protected]. Tweet @TravelFeatures. 'Like' us at facebook.com/KarenBRubin