By Karen Rubin, Travel Features Syndicate, goingplacesfarandnear.com
My whirlwind odyssey to learn about the renaissance of British Columbia's indigenous heritage takes me to Whistler-Blackcomb, the world-famous ski resort. The mountain resort, one of the largest in North America, is on First Nations land and is where a cultural center, a joint endeavor of the Lil'wat and the Squamash nations, has opened.
I hop the Skylynx shuttle bus, packed with skiers, that leaves from the Hyatt Regency Vancouver downtown (also close to the Bill Reid Gallery and the Fairmont Hotel) for a pleasant, scenic two-hour ride to Whistler Village Centre.
The skiing even this late in the season looks fantastic but I am here to continue my study of the indigenous heritage – past and present – that permeates this place. The spirit is very strong here in Whistler. While the skiers all head to the gondola, I find my way to a trail that leads to the Squamish Lil'wat Cultural Centre.
The idea for a world-class cultural center originated with the Resort Municipality of Whistler in 1997, which met with the Lil'wat Nation to discuss its participation and presence in Whistler. Mindful of its historic collaboration and shared interest in land stewardship with the Squamish Nation, in 2001, the two nations signed a historic Protocol Agreement, the only one of its kind in Canada. The Squamish Lil'wat Cultural Centre opened in 2008. In 2020, a framework Agreement was signed between the Nations and the Resort Municipality of Whistler, providing for collaborations on economic development, tourism and promotion of cultural awareness.
The building is a beautiful space with floor-to-ceiling windows that look out to the woods. I join nine others for the center's signature tour, "What We Treasure," which are led by cultural ambassadors who share their own stories and first-hand cultural experiences. The tour begins with an excellent 15-minute orientation film.
Our guide is Dalilah, whose Lil'wat name is T'ac T'ac , or "sweet sweet" like sweetie or sweatheart. She is a 17-year old high school student interning on her spring break. She begins by singing in her native language, "We belong to the land, the land is our people, we belong to the land." We view artifacts and hear stories that give us a sense of the past and present way of life of the Squamish and Lil'wat peoples.
As we go through the center, I am struck by how different the clothes, foods and therefore the traditions and daily habits are for these two peoples who live "where rivers and mountains meet."  It is starkly clear how culture and lifestyle is linked to the ecology and topography of their land and the materials and resources at hand. The Squamash are coastal, the Lil'wat live on the mountain.  Culture is a manifestation of the ecosystem we inhabit – even and especially today.
It is these traditions and lessons of living in close harmony with nature (Mother Earth), to the point of spiritual devotion, that the indigenous people impart today, all the more relevant in light of the climate disasters of a planet out of sync with nature.
The displays are less historic artifacts and more contemporary examples of the traditional arts and crafts being revived; often these are not just re-creations of centuries-old design and form, but with modern twists.
We learn how their societies were so careful to live in harmony with their environment – their canoes are made from red cedar bark, but they only harvest a precise section of the tree – hugging the tree so that there are two hand-widths.
"We make sure to only take a piece of the tree so we don't kill it. We are connected to the cedar through the things we make with it," notes Joy Joseph-McCullough, a Squamish weaver.
There is an element of mythology, mysticism, handed down from the ancients, that continues to underpin their worldview, reflected in the urgency to save language, and the oral tradition, and resurrect traditional arts and crafts.
It is reflected in Joy McCullough-Joseph's notes about the traditional Coast Salish Blanket she named "The Message." "I twilled and twined on a Traditional Coast Salish Loom. I named my blanket, "The Message' because the design for the blanket came to me in a dream. In my dream our Ancestors told me to weave in Mother Earth to remind us of our responsibility to the Earth. The second message is to honour and remember the sixteen families that amalgamated to form the Squamish Nation. The last message is to honour our Ancestors who were weavers."
Another note reads "when you wear the blankets, you feel the protection of all who have been called to protect you… We feel the prayers offered by the weaver and our ancestors, when we wear the robes."
You have to wait a year before you can weave cedar bark and it can three apprentices six months to weave a cedar mat, Dalilah tells us. "When we are sad, we don't weave, otherwise it would transfer negative thoughts."
We learn how mountain goat wool was used in Salish weaving, an ancient art form that dates back to the ice age. A mountain goat wool blanket in those times could mean the difference between surviving or succumbing to the elements. The inner wool of the mountain goat was gathered during spring molt, collected off of bushes from wool shed by the goat or from harvested animals. "It takes 5 to 10 years to collect enough for a blanket," she tells us.
The wool was mixed with hair from a specially bred dog. Natural dyes were derived from plants, berries and clays. Intricate geometric designs reflected elements of nature and families held the rights to use those designs.
I am lucky to see a special photography exhibit on view: "Unceded – Photographic Journey into Belonging". This temporary exhibit makes graphic the meaning of "unceded" – land that was considered stolen, taken by force, without a legal treaty. The photos show contemporary indigenous people in places like downtown Vancouver. But it is actually speaking more to the First Nations people, prodding them to see themselves in this modern world, but retaining their connection to their heritage. Unceded "doesn't mean our people aren't still there."
"As urban cities, farmland, towns, and recreation parks built up around us, our Ancestors are still here, living in the blood of the people of this land. While pop culture, fashion trends and global connection are influencing how people move through society, people residing on and off reserve are living deeply in their culture, engaged socially and politically with the world around them, reviving ancient traditions, re-enforcing a stewardship that guides their climate and lands safely through the first 50 thousand years before contact."
I have a delightful lunch at Thunderbird Café, and survey a marvelous gift shop at the center before heading off to do a bit of sightseeing on Whistler's famous Peak 2 Peak Gondola.
Squamish Lil'wat Cultural Centre, 4584 Blackcomb Way, Whistler, 1 866 441 SLCC (7522), https://slcc.ca/.
Peak 2 Peak Gondola
Considering how vast Whistler-Blackcomb is, it is actually surprisingly easy to get around (once I figure it out).
I take the Blackcomb Gondola from the base of Blackcomb Mountain for the ride to the top of Blackcomb Mountain. From here it is a short walk – skirting the skiers and snowboarders – to the Peak 2 Peak Gondola which links Blackcomb Mountain to Whistler Mountain. I'm feeling jealous of the skiers but I am sightseeing today and this is an absolutely gorgeous ride. A man I ride up the Blackcomb Gondola with tells me to look for special sightseeing gondolas that have a plexiglass bottom you can look through – we sightseers stand on a separate line so we get first dibs when the car comes around.
After opening on December 12, 2008, the massive gondola revolutionized the way skiers, riders and hikers experienced the mountains. The Peak 2 Peak Gondola, as part of the world's longest continuous lift system, isn't just to move skiers, it also gives summer guests access to Whistler Blackcomb's high alpine for sightseeing, hiking and mountain-top dining.
The Peak 2 Peak Gondola travels a span of 2.73 miles giving sightseers and hikers a serene aerial flight showcasing flora and fauna (even black bears in their protected habitats), Whistler and Blackcomb Mountains; the Coast Mountain Range's many glaciers and peaks; and Whistler Village, surrounded by lakes.
It is notable that Whistler Blackcomb (now part of Vail Resorts, which means the resort is part of the Epic Pass) is consistently ranked one of the top ski resorts in North America. With more than 8,100 acres of terrain, variety is an understatement: there are steeps, deeps, chutes, bowls, glades, long cruisers, and high alpine and gentle rollers. And the numbers speak for themselves: one vertical mile drop; two side-by-side mountains connected by a pedestrian village, more than 200 trails, three glaciers, 37 lifts, and 16 alpine bowls – all of it top quality.
Even this late in the season, the snow looks great and the trails look gorgeous– plenty of easy, intermediate runs!
Riding the Peak 2 Peak Gondola is such fun and the view so beautiful, that I actually ride it back and forth and back again for an hour before downloading via Whistler Village Gondola into Skiers Plaza in Whistler Village. (Whistler Blackcomb, https://www.whistlerblackcomb.com/)
Audain Art Museum
Back down in the charming village, I pass lovely shops and eateries on my way to the Audain Art Museum. Outside is the invitation to see the "Masters of Print: Rembrandt and Beyond"- a clue that this is a world-class museum. I did not expect to see Rembrandt prints at Whistler. Nor did I expect to see what is arguably the world's finest collection of First Nations masks, dating from the mid 1800s.
Sure enough, the Audain Art Museum delivers on its promise of a transformative experience for appreciating the art of British Columbia as well as exhibitions from around Canada and around the world. It's in this part of the world but very much of the world. It is as local as local can be but brings the reaches of the globe into this small section of it.
The Audain Art Museum's Permanent Collection of some 200 works  – nearly all of it from the collection of Michael Audain and his wife, Yoshiko Karasawa, or purchased with their funding – is a visual journey through the history of art from coastal British Columbia.
Most astonishing is the room housing Audain's collection of Northwest Coast First Nations masks. They are extraordinary because you see the individualism of the artist as well as the subject (many seem to be representations of actual people rather than mythic figures) and different techniques. I wonder if this reflects changes over time (spanning the mid 1800s to the present), regional differences and styles or perhaps just the artist's own creativity.
A truly monumental piece, an exquisitely carved red cedar "Dance Screen" (2010-2013) by Haida Chief 7idansuu (James Hart) who was a friend and collaborator of Bill Reid, takes up an entire wall of this room.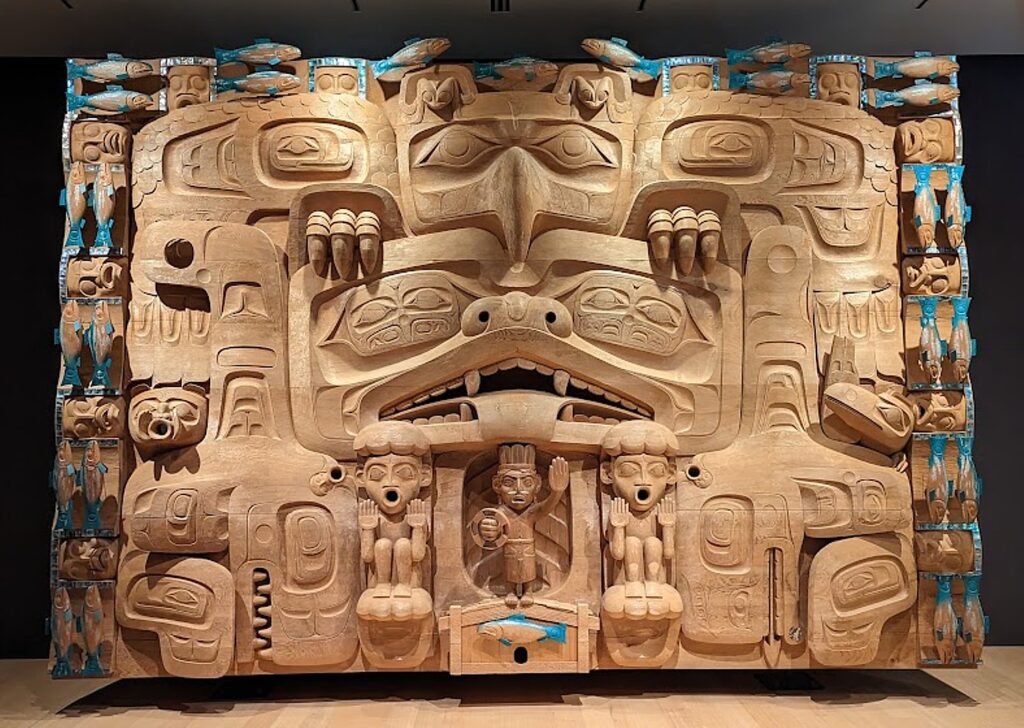 The next room has a huge collection of a beloved British Columbia artist, Emily Carr. You see her in her Impressionist phase, when she studied in France in 1911; how she incorporated First Nations elements into her landscapes when she returned in 1912. There are also post-war modernists including E.J. Hughes, Gordon Smith and Jack Shadbolt as well as works by internationally renowned, contemporary British Columbia artists including Jeff Wall, Dana Claxton, Marianne Nicolson, Rodney Graham and Stan Douglas.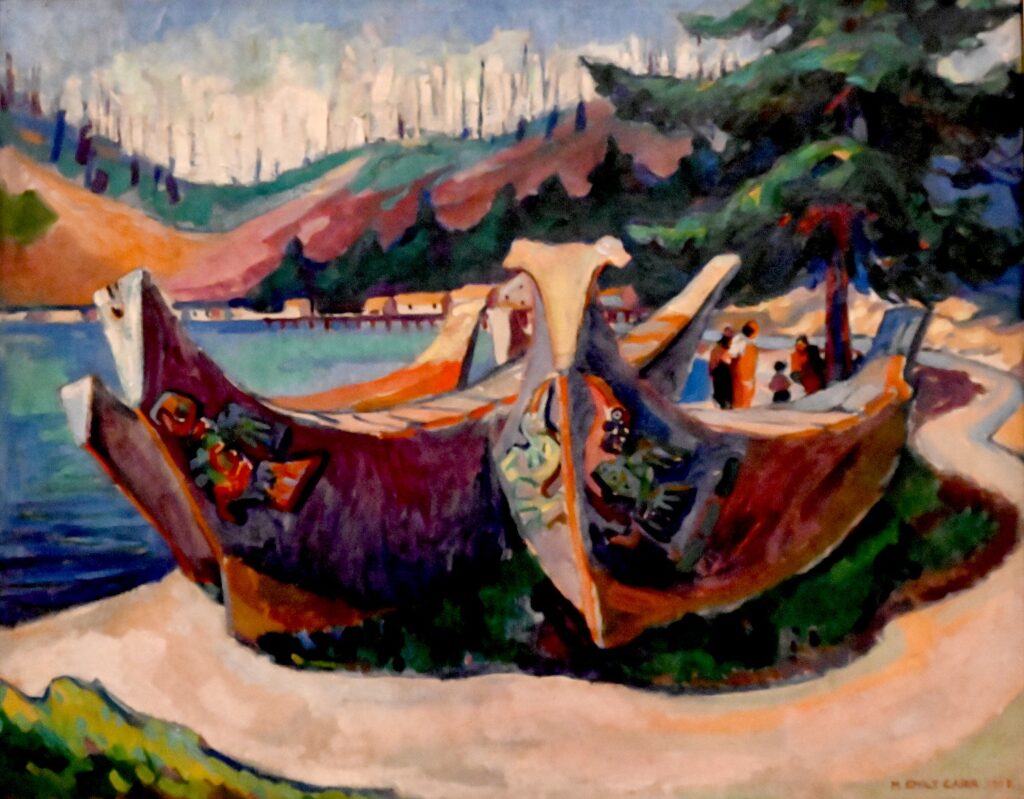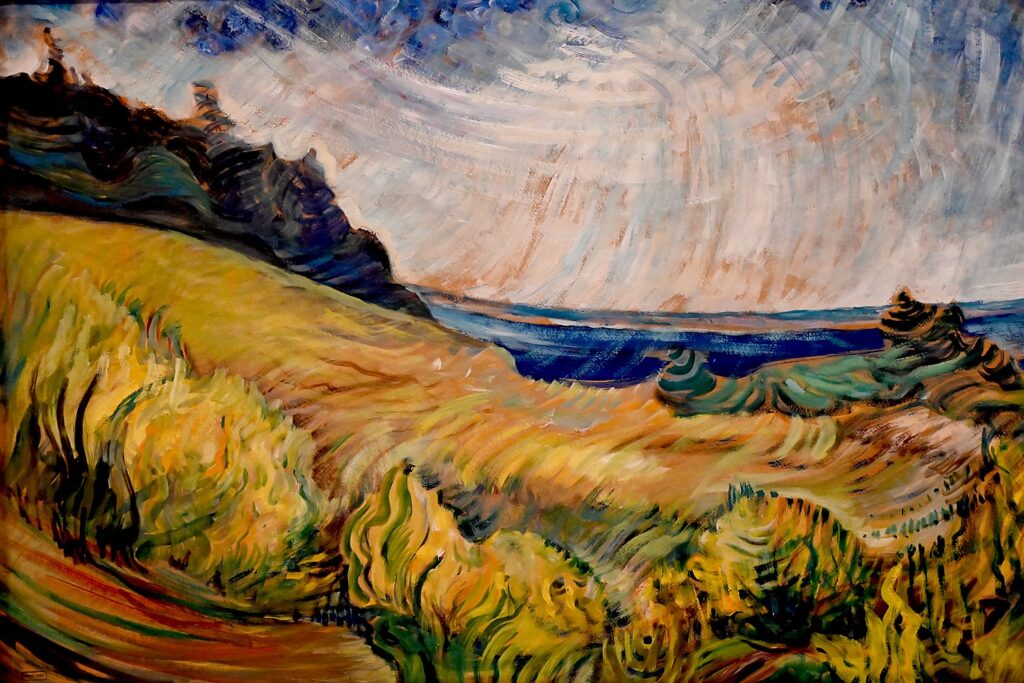 I'm told that Audain had never even been to Whistler before, but his friend, who designed Whistler Village in the 1980s, encouraged him that he could build a museum in Whistler which would connect to nature, where people could quietly contemplate art. They worked with award-winning architects John and Patricia Patkau. The museum opened in 2016. (Open Thursday to Monday 11am – 6pm).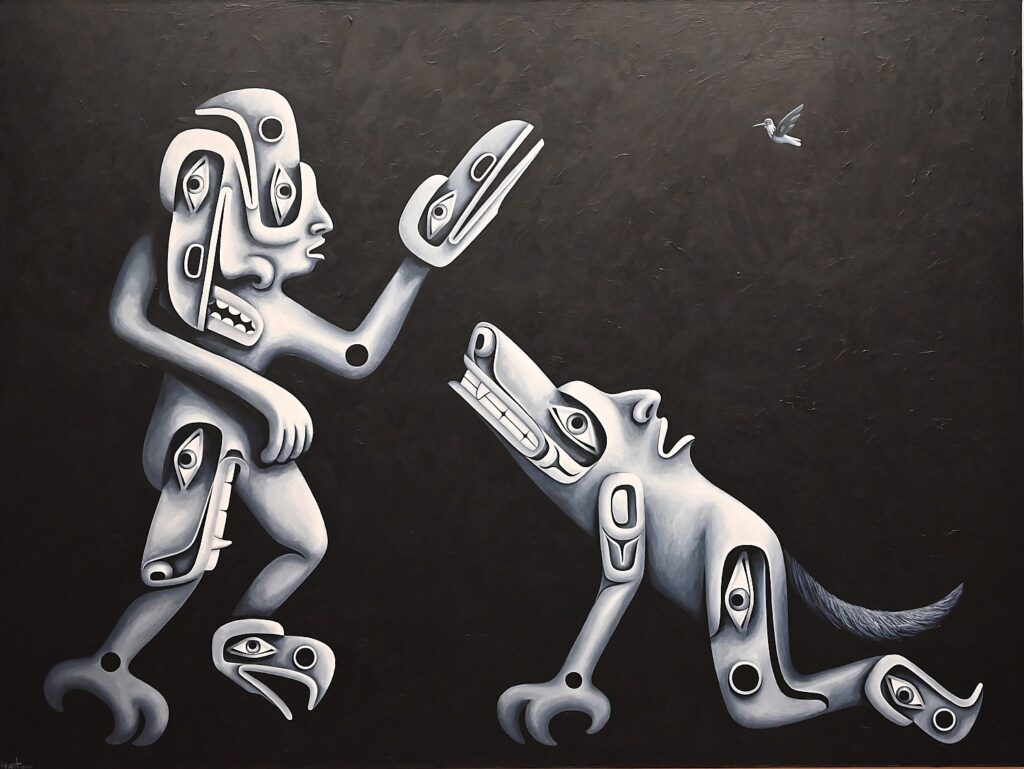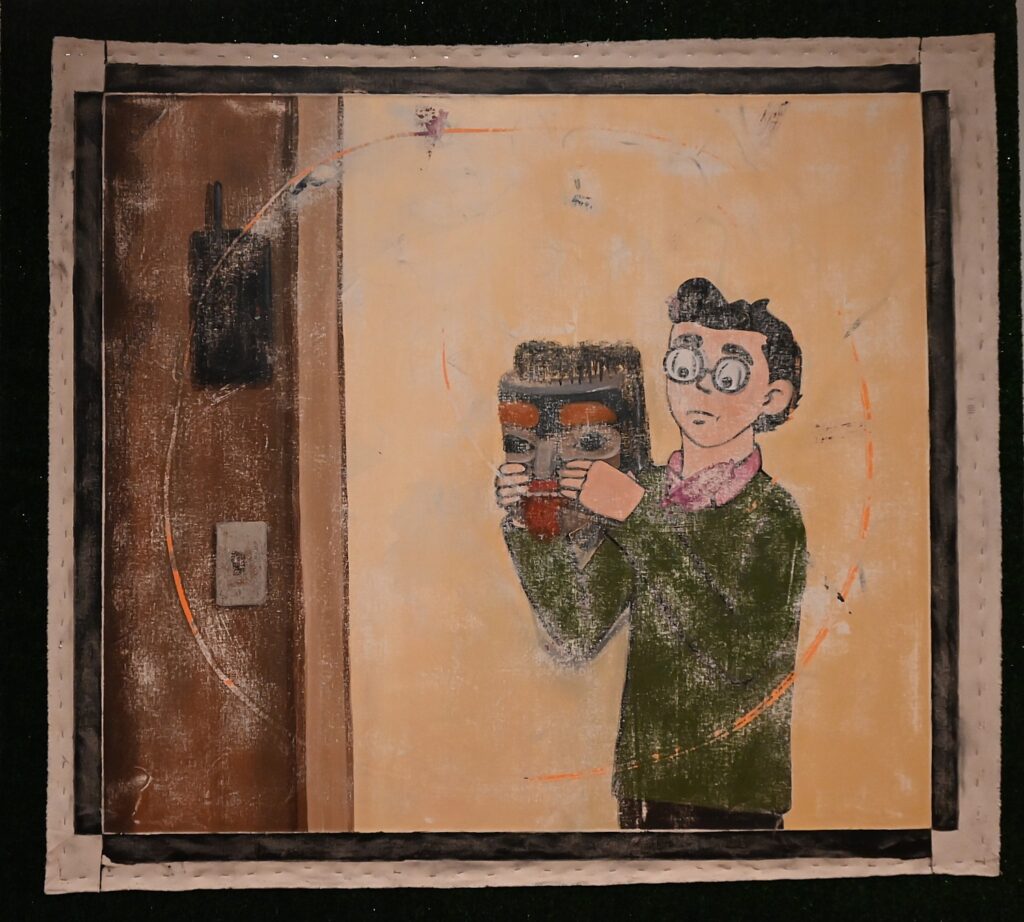 The website includes this statement:  "Audain Art Museum is grateful to be on the shared, unceded territory of the Sḵwx̱wú7mesh (Squamish) Nation and Lil̓wat7úl (Lil'wat) Nation."
Audain Art Museum, 4350 Blackcomb Way, Whistler, British Columbia, Canada, V8E 1N3,  [email protected]  604-962-0413, https://audainartmuseum.com/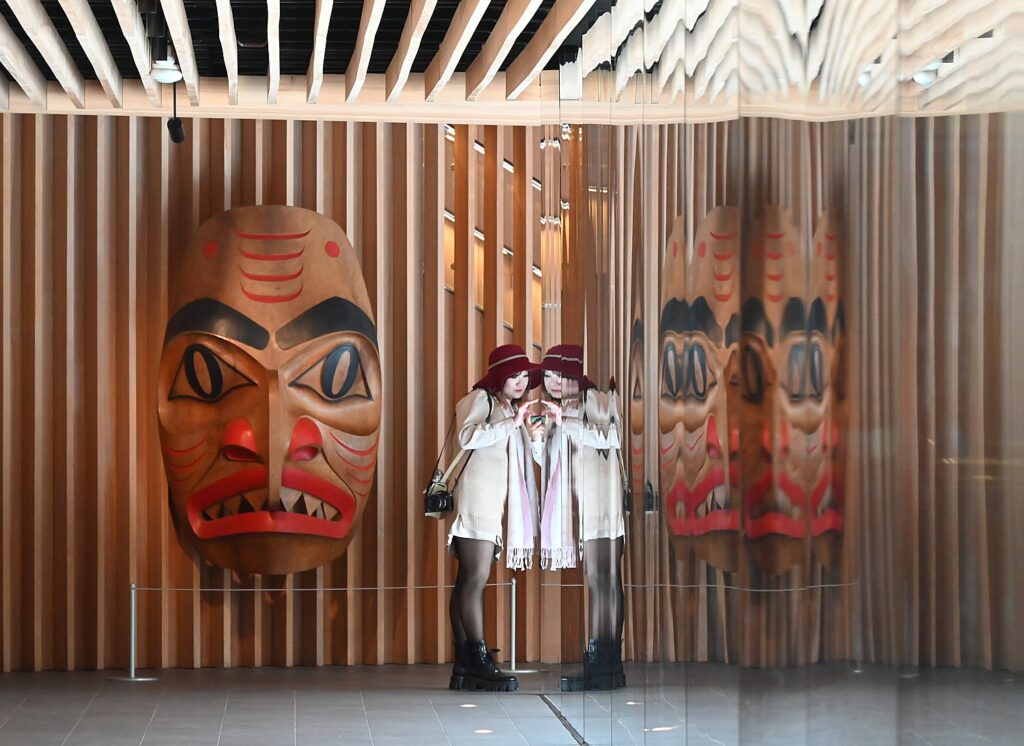 I have a rushed dinner at Caramba! Restaurant (#12 4314 Main Street (Town Plaza), Whistler, BC V0N 1B0 Phone: 604.938.1879 www.carambarestaurant.com/), a fun, casual place before I get back on the Skylynx shuttle for the 7 pm departure back to Vancouver (get there early because the bus fills up), arriving back to downtown Vancouver at 9:30 pm.
Indigenous Tourism BC offers travel ideas, things to do, places to go, places to stay, and suggested itineraries and a trip planning app (https://www.indigenousbc.com/)
Next: GRANVILLE ISLAND, VANCOUVER'S NEARBY GETAWAY, IS CORNUCOPIA OF ART, CULTURE
See also: 
ON THE TRAIL TO DISCOVER VANCOUVER'S REVIVED INDIGENOUS HERITAGE
WALKING TOURS, DINING EXPERIENCES REVEAL VANCOUVER'S REVIVED INDIGENOUS HERITAGE
____________________________
© 2023 Travel Features Syndicate, a division of Workstyles, Inc. All rights reserved. Visit goingplacesfarandnear.com, www.huffingtonpost.com/author/karen-rubin, and travelwritersmagazine.com/TravelFeaturesSyndicate/. Blogging at goingplacesnearandfar.wordpress.com and moralcompasstravel.info. Visit instagram.com/going_places_far_and_near and instagram.com/bigbackpacktraveler/ Send comments or questions to [email protected]. Tweet @TravelFeatures. 'Like' us at facebook.com/KarenBRubin